Wednesday, July 26, 2023 / by Lisa Taylor
The Wealth-Building Power of Homeownership
You might have heard some people suggesting that renting is a better option than buying a home in today's market. While that may be a valid perspective, it's essential to understand that becoming a homeowner still offers numerous benefits, especially when considering long-term investments that can help your net worth grow over time. In this blog, we'll explore the wealth-building potential of homeownership, regardless of your income level.
Homeownership: A Path to Greater Wealth
Surprisingly, homeowners from various income levels tend to have significantly higher net worth compared to renters earning the same income. Data provided by First American clearly demonstrates this trend: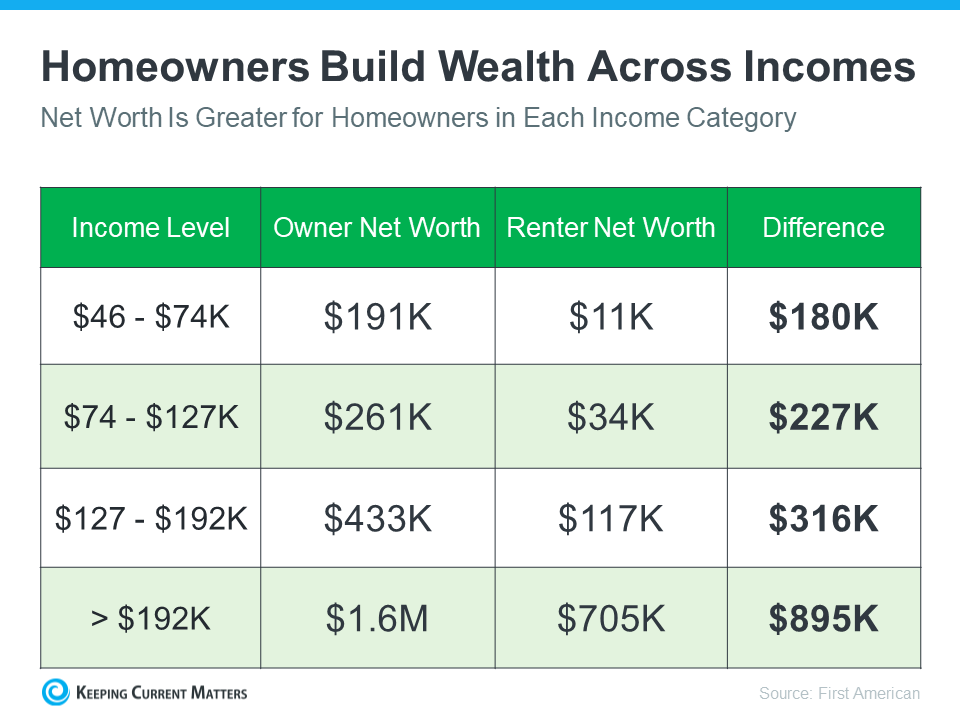 How Does Homeownership Generate Greater Wealth?
Owning a home allows you to build home equity, which is a key factor in accumulating wealth. Instead of paying rent every month without any returns, homeowners benefit from the steady growth of home equity. As you make mortgage payments and as home prices appreciate over time, your equity in the property increases. Mark Fleming, Chief Economist at First American, points out that renters do not experience the same wealth-building benefits:
"Renters as non-homeowners gain no wealth benefit as home prices rise. That wealth accrues to the landlord."
Consider the Advantages Before You Decide
Before you renew your rental agreement, take a moment to ponder whether homeownership might be a more beneficial option for you. It's a great idea to discuss your situation with a real estate expert you trust. A professional can walk you through the advantages of owning a home and help you determine if it aligns with your goals.
In Conclusion
If you find yourself unsure about continuing to rent or taking the leap into homeownership, remember that owning a home can be a powerful tool for building wealth—regardless of your income. Everyone's situation is different. Speak with a Realtor to find out if it makes sense to you.
Remember, buying a home is not just a financial decision; it's also about creating a place to call your own, filled with memories and experiences that will last a lifetime.
Information Courtsy of Keeping Current Matters
---