Tuesday, October 27, 2020 / by Karey Kendrick
Continuing their community activism and dedication to athletics, the Rick Kendrick Home Selling Team helped raise funds and awareness for Cerebral Palsy research by exceeding expectations at the special STEPtember challenge.
North Palm Beach, FL (PRUnderground) October 26th, 2020
Cerebral Palsy is one of the world (and America's) great health problems that impacts countless families. Hard work is being done to develop new treatments or even a cure but unfortunately funding is always a big concern. In that spirit, North Palm Beach-based, leading Florida Real Estate Brokerage Rick Kendrick Home Selling Team, Chasewood Realty recently celebrated successfully participating in STEPtember, a fundraising and fitness challenge event to raise funds and awareness for Cerebral Palsy research. The goal was for the RickKendrick Home Selling Team to walk 10,000 steps a day for 28 days from Sept 1-28. Together, the team raised $4,053 in one month! and walked a combined 2,413,019 steps. The team couldn't be happier about having the chance to help such a worthy cause.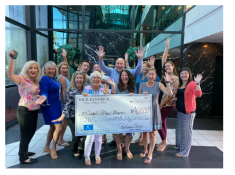 "This was our first year participating in STEPtember and we are so proud of our team for their support of this great cause," commented Rick & Karey Kendrick, Owners, Chasewood Realty. "Despite a worldwide pandemic, it was a record setting month for us in terms of our fundraising efforts. This was such a fun event and we look forward to participating in STEPtember 2021."
The charity was equally enthusiastic about the team's participation.
Margaret Labattaglia,Corporate Partnerships Manager, Cerebral Palsy Alliance Research Foundation, said in a message to Chasewood Realty, "I wanted to give a HUGE thank you for everything you've done. I know that STEPtember takes time and energy. It's a long and busy month and I truly appreciate the work you put in to make the campaign a success. We could not have achieved the results we did this year without the dedication, support and enthusiasm of our champions. It makes a world of difference to have you leading the charge and I am grateful for your involvement."
The Rick Kendrick Home Selling Team is showing homes in Juno Beach, Jupiter, North Palm Beach, Palm Beach Gardens, and many other neighborhoods in the surrounding areas.
For more details visit https://www.chasewoodrealty.com. Stay part of the conversation on Facebook, Instagram, and Twitter.
About Chasewood Realty
Chasewood Realty is a Florida Real Estate Brokerage, headquartered in North Palm Beach.
---