Tuesday, May 30, 2023 / by Lisa Taylor
Should You Buy a Home in a High Inflation Environment?


If you've noticed the impact of high inflation on your daily expenses, such as groceries and gas prices, you might be wondering if it still makes sense to buy a home. And if you're a renter, the continuous rise in rent prices only adds to the uncertainty. But here's the bottom line – buying a home is still a viable option, and here's why.
Homeownership Acts as a Shield Against Inflation
Freddie Mac highlights an essential benefit of buying a home today: it helps you build equity while protecting you from the rising costs of inflation. With a fixed-rate mortgage, your monthly housing costs remain stable over the long term, even as other expenses continue to rise – a trend observed in recent years.
Unlike rents, which tend to increase over time, a fixed-rate mortgage ensures predictability throughout the mortgage's lifespan (typically 15 to 30 years). This stability becomes especially valuable when most other costs are on the rise.
The Pitfall of Renting during Inflation
In contrast, renting leaves you vulnerable to rent increases aligned with inflation. As inflation rises, so do your monthly rent payments. Refer to the graph below for a visual representation: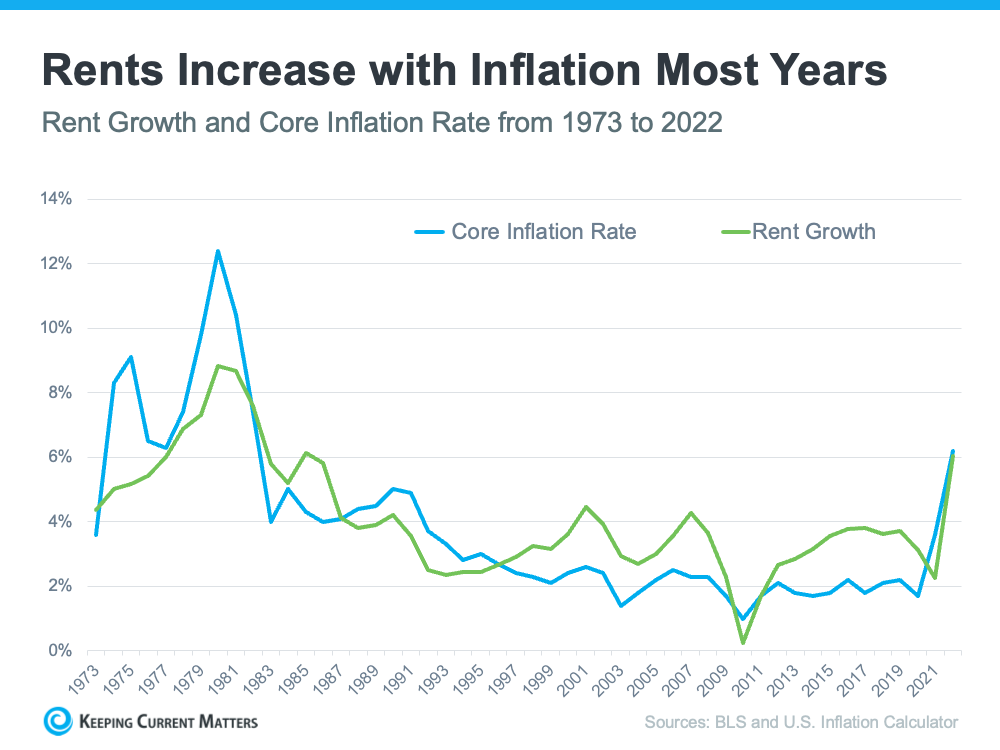 A fixed-rate mortgage provides protection against future rent hikes. In times of high inflation, property managers may raise rents during lease renewals to mitigate the impact of inflation. Recent surveys indicate that 73% of property managers plan to increase rents over the next two years.
The Advantages of Homeownership
The major perk of homeownership lies in having a stable housing payment, particularly during times of economic uncertainty. By purchasing a home, you secure a fixed-rate mortgage, shielding yourself from escalating costs.
In Conclusion


A stable housing payment is crucial when inflation rates are high. By buying a home, you can benefit from a fixed-rate mortgage that safeguards you from future rent hikes. If you're ready to embark on your homeownership journey and gain more insights tailored to your specific situation, I encourage you to reach out to me. I'm here to guide you through the process and help you make the best decision for your financial future.

Let's connect and make your homeownership dreams a reality!


Lisa Taylor, Your Palm Beach Realtor


Information provided by Keeping Matters Current.
---